The Tao of Martha: My Year of LIVING; Or, Why I'm Never Getting All That Glitter Off of the Dog
Jen Lancaster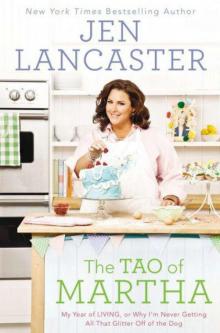 Other Titles by New York Times Bestselling Author

JEN LANCASTER

Bitter Is the New Black

Bright Lights, Big Ass

Such a Pretty Fat

Pretty in Plaid

My Fair Lazy

If You Were Here

Jeneration X

Here I Go Again

New American Library

Published by the Penguin Group

Penguin Group (USA) Inc., 375 Hudson Street,

New York, New York 10014, USA

USA | Canada | UK | Ireland | Australia | New Zealand | India | South Africa | China

Penguin Books Ltd., Registered Offices: 80 Strand, London WC2R 0RL, England

For more information about the Penguin Group visit penguin.com.

First published by New American Library,

a division of Penguin Group (USA) Inc.

First Printing, June 2013

Copyright © Altgeld Shrugged, Inc., 2013

All rights reserved. No part of this book may be reproduced, scanned, or distributed in any printed or electronic form without permission. Please do not participate in or encourage piracy of copyrighted materials in violation of the author's rights. Purchase only authorized editions.

REGISTERED TRADEMARK—MARCA REGISTRADA

LIBRARY OF CONGRESS CATALOGING-IN-PUBLICATION DATA:

Lancaster, Jen, 1967–

The tao of Martha: my year of LIVING; or why I'm never, ever getting all that glitter off of the dog/Jen Lancaster.

p. cm

ISBN: 978-1-101-60595-0

1. Lancaster, Jen, 1967– 2. Authors, American—21st century—Biography. 3. Stewart, Martha—Influence. 4. United States—Social life and customs—21st century—Humor. I. Title.

PS3612.A54748Z46 2013

814'.6—dc32

[B] 2013002071

Designed by Spring Hoteling

PUBLISHER'S NOTE

Penguin is committed to publishing works of quality and integrity. In that spirit, we are proud to offer this book to our readers; however the story, the experiences, and the words are the author's alone.

While the author has made every effort to provide accurate telephone numbers, Internet addresses, and other contact information at the time of publication, neither the publisher nor the author assumes any responsibility for errors, or for changes that occur after publication. Further, publisher does not have any control over and does not assume any responsibility for author or third-party Web sites or their content.

For friends, old and new,

and for the divine Miss M (she knows why)

PROLOGUE

1. RESOLVED

2. GET IT TOGETHER ALREADY

3. LET US NEVER SPEAK OF THIS AGAIN

4. THE TAO OF STEAK KNIVES

5. THANK YOU, EASTER BUNNY, BAWK BAWK!

6. THE NEW GIRL(s)

7. MY CAT FROM HELL

8. MUCH ADO ABOUT DIRT

9. I NEVER PROMISED YOU A ROSE GARDEN

10. ZUCCHINI RICH

11. I NEVER PROMISED YOU AN ORGANIC GARDEN, EITHER

12. BABY, YOU'RE A FIREWORK

13. PUT A BIRD ON IT

14. THE AMBIEN DIARIES

15. BANANA GRABBER

16. MY KINGDOM FOR A CROCK-POT

17. EVERY DAY IS HALLOWEEN

18. TRICK OR TREAT!

19. LIVING, ZOMBIE STYLE

20. GOBBLE, GOBBLE

21. NOT SEMIHOMEMADE

22. I'M AWARE NOW, DAMN IT

23. AND THEN WE CAME TO THE END

ACKNOWLEDGMENTS

Life is too complicated not to be orderly.

—Martha Stewart, Harper's Bazaar

Martha, you're making us all look bad.

—Every Other Woman in America

"You think Martha Stewart shoves her clutter in a gun cabinet?"

I clamp my lips together, saying nothing in response as my husband, Fletch, points to the pile we just unearthed. He's not smug; rather he's amused, but the difference doesn't much matter.

Despite his having finished his army tour of duty seventeen years ago, Fletch's bearing is still distinctly military. He's practically standing at attention, sporting his fresh short haircut, shiny shoes, heavily starched gingham oxford, and flat-front khakis. I squirm under my meatball-stained workout shirt and yoga pants, with bonus unwashed ponytail.

I'm loath to admit that he's right—I'm sure Martha would have never stuffed her countertop untidiness into the bottom of the kitchen gun cabinet in the first place.

Martha probably doesn't even have a kitchen gun cabinet.

Then again, I can't imagine anyone who lives on the grid opting for a kitchen gun cabinet.

The only reason we currently possess this handy fridge-adjacent firearm storage is that it came with the place. The previous owner was a retired naval officer and huge military history buff, so the house once showcased many of his treasures. (We're presently hanging our Christmas stockings on the fireplace hooks that used to hold a cavalry saber.) He erected a set of glass-front locked gun cabinets. Why he felt the breakfast nook was the best place to display his Enfield musketoons, I can't say.

Maybe he was a Civil War reenactor?

Maybe he was paranoid?

Or maybe he simply enjoyed gazing at his artfully lit and secured vintage weapons stockade over eggs Benedict?

Personally, we moved from our sketchy Chicago neighborhood to the northern burbs specifically so we didn't have to eat breakfast fully armed, but who am I to judge?

Plus, the old owner installed a new cedar shake roof and a dual-zone HVAC system, so in no way is the gun cabinet indicative of other instances of poor judgment. Rather, it's just a tiny anomaly and gives the place a bit of character. At some point, I'm going to convert it to a china cabinet, so it's totally fine.

Of course, I've been saying that for more than a year now.

I tell Fletch, "The good news is that I found my recipe."

Seriously? I've been tearing the house apart for three days looking for this one cookbook that contains the best Bolognese sauce recipe on the planet. The reason I couldn't just buy another copy or find a duplicate online is that all my notes are handwritten in the margin. Although the recipe itself is stellar, the tweaks I've figured out along the way are what make it legendary. (The mortadella must have pistachios, okay? Must.) We're throwing a post-Christmas, pre–New Year's dinner party on Thursday, and without this recipe, I may as well open a can of SpaghettiOs and call it done.

Fletch gingerly picks through the other items I've unearthed in the cabinet. He waves a handbag at me. "You felt the gun cabinet was the best place to stash this purse?"

I can't help but admire the gorgeous pea-green leather with contrasting chocolate trim. "Show a little respect. That's a Chloe bag. Got it for seventy-five percent off at Nordstrom. You know how hard it is to snag a deal like that? Please. You'd have an easier time finding a unicorn or a professional athlete who hasn't banged a Kardashian. Point is, I've been meaning to have it reconditioned, so I brought it downstairs."

"When? Six months ago?"

I nod and he sighs, moving on to the next item in the pile. He reads a slip of paper. "And your prescription for blood pressure medication?"

I press my hand to my heart. "Huh. That would explain my racing pulse."

He peers down at a couple of orange packets
. "What do we have here? Let's see, not one but two overdue parking tickets. How old are these? We haven't lived on Altgeld for three years!"

I shrug. "I was busy."

He frowns as he examines a rather important-looking letter from our accountants. "Help me understand why you wouldn't want to, say, store these items in the proper place. Walk me through the process where you said, 'Yes, the gun cabinet is the perfect repository for every random bit of crap to ever pass through our kitchen.'"

In my defense, it's not like Fletch married me for my organizational skills. Hell, when we got together in college almost two decades ago, I didn't even have a dresser, so all my stuff lived in piles along the walls, kind of like a nest. Sure, the chaos and disorder made him twitchy, but let's be honest: I was a lot cute (and a little easy) back then. It's not like I roped him in by pretending to be tidy at first. He knew what he was getting into the first time he ever tripped over a tower of my shoes.

What's important to note is that over the years, I've upped my household game considerably. Seriously, if Martha Stewart herself were to step inside my home right now, she'd give my empty counters and the pristine baseboards two thumbs up. Maybe I haven't quite managed to shower yet today, but it's because I've been busy cleaning. Due to my efforts, the hardwood's shiny, the windows sparkle, and the granite glows. Plus, Martha would never find a mess in my sink, because I can't sleep in a house where the dishes are dirty, even if it means scrubbing lipstick off of champagne glasses at three thirty a.m. while half in the bag.

Because I share my home with a number of pets who have no problem besmirching a Persian rug, I own three vacuum cleaners, not counting the Shop-Vacs, which brings the total to five, half a dozen types of mops, and a professional-grade RugDoctor to address such indiscretions.

Of which there are many.

Yet my dirty little secret is that the place seems immaculate because I shove everything into cabinets, drawers, and closets to keep it looking that way. Today's foray into gun cabinet storage?

So not my first rodeo.

The worst of it all is located in my nightstand, which Fletch has dubbed the Drawer of Shame. Again, because I live with fragile creatures predisposed to swallowing anything they can get their paws on, I'm insane about scuttling potentially dangerous items out of sight.

The Drawer of Shame is a big, knotty mess of choking hazards like used dental floss and old hair bands, interspersed with free-range antacids, uncapped, half-chewed lip balms, pretzel wrappers, and eight thousand tubes of whatever was the big new antioxidant eye cream six months ago. Whenever I reach for one item, the whole lot comes out, too.

The thing is, all my drawers and closets are disgraceful, much to the hyperorganized Sergeant Fletcher's chagrin. Open the spice cabinet and it rains bottles of oregano, garlic powder, and artisanal salts. Crack the drawer next to the kitchen desk and scores of empty plastic grocery bags will explode as though being shot from a cannon. And my closet? Let's just say it's a testament to single right sneakers, solo socks, and a disproportionately high number of meatball-stained workout tops.

Yet, honestly, I'm fine with the behind-the-scenes chaos, because I've been busy with personal growth.

Okay, that's a lie.

I might be a tiny bit lazy when it comes to organizing. But when I consider the process of getting organized, I feel overwhelmed. I know that my desk is filled with antique Jolly Ranchers and dead batteries and ten-year-old business cards. I'm holding on to garbage, essentially. I definitely don't have the hoarder mentality, where I can't possibly live without my broken stapler or the gas bill I paid two addresses ago, though. If I could miracle that shit out of existence with one wrinkle of my Bewitched nose, I'd be on it in a second. I have zero emotional attachment to crap, and I'm not holding on to things simply because they give me All the Feels.

Rather, there's so much else I'd prefer do with my time, like drive to the city to have lunch with my girlfriends, or shop for antiques, or hang out in the TV room with Fletch and the dogs, who are perpetually draped across our laps. And are you aware of how many good books were published this year alone? Plus, I don't want TMZ to go out of business because no one's visiting poor Harvey Levin's site, and if I stopped paying attention to the Real Housewives, they might cease to exist. I can't have that on my conscience; hasn't poor Taylor Armstrong been through enough?

My point is that everything looks superneat and clean, largely because I'm always stashing whatever crap accumulates. Maybe what's beneath the surface is a wreck, but SFW? Having cluttered closets and disorganized drawers is like wearing a ratty bra under an awesome party dress—no one who hasn't pledged lifelong devotion to me in front of God and the Nevada Gaming Commission is ever going to see it, so it doesn't matter.

Suddenly I remember why I stowed all that junk in the bottom of this particular cabinet in the first place; back in August, my college's alumni magazine came here to take pictures of me because they wanted to showcase what an amazing, accomplished, savvy, and successful professional author I'd become.

(Pretty sure I'm editorializing on Purdue's intent. What's more likely is they opted to feature me, the quintessential eleven-year-plan-only-to-finally-graduate-with-a-C-average student, because they thought that in addition to writing books, I might also write them a check.)

(They were not wrong.)

My point is, I wanted clear countertops in the pictures, so I shoved the pile of important items I'd been housing on the kitchen desk and then promptly forgot any of it ever existed.

So, to answer Fletch's initial question, no, I'm sure Martha Stewart would not stuff her clutter into the gun safe. But that's not because I'm Martha-bashing.

Far from it, in fact.

I worship Martha Stewart.

I see her as our nation's overachieving older sister. Like, I might resent her a tiny bit, but mostly I'm in awe of how she makes everything look so damn easy. Whenever something goes awry in my house, we seem to invoke her name, e.g.:

"I wonder if Martha Stewart has to chase her asshole cats off the appetizer buffet?"

"I wonder if Martha Stewart spends four hundred dollars and an entire summer fertilizing a garden, only to end up with two anemic tomatoes and an unholy army of slugs?"

"I wonder if Martha Stewart rights the crooked mirror in her dining room with a wad of chewed Dentyne?"

"I wonder if Martha Stewart's bourbon chocolate pecan pie is both so liquid and so boozy that it's technically a cocktail in and of itself?"

"I wonder if Martha Stewart's guests are greeted at the door with her sweating, crying, and shouting, 'Here's a recipe; get to work or we're never eating Thanksgiving dinner!'"

I live for Martha and her perfect little universe, but outside of cooking, I've yet to find a way to incorporate her processes into mine. I mean to, of course, but…

Fletch crosses his arms and leans back against the counter. Gently, he asks, "Can you at least agree that being organized might take less effort than being disorganized?"

To Fletch's credit, he's not one of those guys who'll bitch about his wife's wrongs and never try to right them himself. I see those asshat husbands on shows like Dr. Phil all the time. The guys will be all, "My wife doesn't do X, Y, or Z." Then Dr. Phil will ask, "Do you do X, Y, or Z?" which of course he doesn't. That's when Dr. Phil will rain down his homespun hellfire, all, "So we're going to have a donkey barbecue and you're gonna furnish the ass." What's not to love?

Anyway, I figure the key to our eighteen years together is that we don't attack each other. Tease? Yes. Mock? With good-natured relish and love. (Mostly relish.) Criticize? Never. Instead of complaining, Fletch is perpetually coming up with systems to keep everything in line.

The problem is, Fletch is an odd variation of perfectionist, and he's never encountered a project that he can't
overcomplicate. Early this year, I asked him to repaint a dresser. Easy-peasy. Just slap some of the extra robin's-egg-blue paint left over from the island cabinet and there we go.

Instead, Fletch reengineered the whole thing, taking the dresser apart stick by stick before beginning a two-month-long reconstruction project that rivaled the Big Dig in scope and complexity. And suddenly my little honey-do turned into his version of Steve Austin, the Six Million Dollar Man. (He had the technology; he could rebuild it.) He kept saying, "This will stand up to a hurricane now!" Pretty much I just wanted it to stand up to the weight of a few perfume bottles, but I had mad respect for his enthusiasm.

At least, after the fact.

This is why when he organizes something, I can't keep it straight. His systems are too complex. I shouldn't require a country-of-origin spreadsheet to know the garlic is housed in the Mediterranean section of the spice rack.

"Absolutely, hundred percent agree," I tell him. "Yet it's the process of becoming organized that trips me up. Anyway, we can figure all that out later. Right now, we have a party to prep and I need a clean workspace."

"Got it. What can I do?" He gives me a little clap and rubs his hands together.

I point to the pile.

"Shove all that clutter back in the gun cabinet, please."

RESOLVED

Welcome to Holiday Central!

The candles are lit, the Christmas carols cranked, and the buffet is laden with each of my best dishes—pasta with Bolognese sauce, of course, short-rib ragout, Italian brisket with rosemary horseradish, both Caprese and kale salads, the kind of antipasto platter that would bring Mr. Frank Sinatra himself to his knees, a traditional three-meat lasagna, and a roasted-red-pepper version, because my friend Julia "doesn't like cow."

The desserts I'm serving require their own separate table, stacked high with apple pies from the Elegant Farmer and Blue Owl (an Oprah's "favorite thing"), Kahlúa cake, and ten varieties of homemade Christmas cookies.