Lost With Me
J. Kenner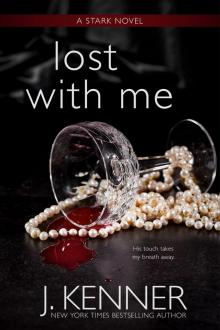 Lost With Me

J. Kenner

Contents

Title Page

About Lost With Me

The Stark Saga

Chapter 1

Chapter 2

Chapter 3

Chapter 4

Chapter 5

Chapter 6

Chapter 7

Chapter 8

Chapter 9

Chapter 10

Chapter 11

Chapter 12

Chapter 13

Chapter 14

Chapter 15

Chapter 16

Chapter 17

Chapter 18

Chapter 19

Chapter 20

Chapter 21

Chapter 22

Chapter 23

Chapter 24

Chapter 25

Chapter 26

Chapter 27

Chapter 28

Epilogue

DAMIEN

Reviews

Wicked Dirty excerpt

Stark Security

Also by J. Kenner

Also by Julie Kenner

About the Author

Lost With Me

* * *

by

* * *

J. Kenner

* * *

Learn more at:

www.jkenner.com

Instagram

Facebook

Bookbub

* * *

For exclusive content and updates, sign up for JK's newsletter & join her Facebook fan group!

* * *

Text JKenner to 21000 for new release announcements!

His touch takes my breath away. Our passion feeds my soul...

* * *

My love for Damien fills me, and the intensity of our bond brings me to my knees. For him, there is no burden I wouldn't bear, no decadent punishment to which I won't submit.

* * *

The dark days seemingly behind us, we have carved a life out of adversity, chiseling away pain to reveal strength and beauty. Now, all I want is to laugh with our children in the sunlight, then surrender myself to Damien's embrace in the dark.

* * *

But lingering secrets and hidden menace threaten our family. Now, Damien and I must forge a new strength from our shared passion and hope the fire between will burn away the darkness and protect everything we hold most dear.

* * *

This sexy, emotionally charged romance continues the story of Damien Stark, the powerful billionaire who's never had to take "no" for an answer, and his beloved wife Nikki Fairchild Stark. Be sure not to miss any part of this sensual, romantic saga.

Meet Damien Stark in the award-winning and internationally bestselling series that started it all…

* * *

The Stark Saga

J. Kenner

novels

release me

claim me

complete me

anchor me

lost with me

DAMIEN

* * *

novellas

take me

have me

play my game

seduce me

unwrap me

deepest kiss

entice me

hold me

please me

indulge me

For all titles, please visit

www.juliekenner.com

Lost With Me is a work of fiction. Names, characters, places, and incidents are products of the author's imagination or are used fictitiously; they are not real, and any resemblance to events, establishments or persons (living or dead or undead) is entirely coincidental.

* * *

Lost With Me Copyright © 2018 by Julie Kenner

Cover design by Michele Catalano, Catalano Creative

Cover image by Annie Ray/Passion Pages

ISBN: 978-1-940673-84-4

Published by Martini & Olive Books

v. 2018-10-19

* * *

All rights reserved. No part of this book may be reproduced, scanned, or distributed in any printed or electronic form without permission. Please do not participate in or encourage piracy of copyrighted materials in violation of the author's rights. This is a work of fiction. Names, places, characters and incidents are the product of the author's imagination and are fictitious. Any resemblance to actual persons, living or dead, events or establishments is solely coincidental.

1

I stand on the wooden patio of my beachfront bungalow, the lively notes of Mozart's Rondo Alla Turca filling my head, the quick tempo of the hold music at odds with the relative calm of the Pacific spread out before me. I press my fingers to the earpiece, settling it more firmly in place as I wait, then once again grip the railing in front of me as I look out to the sea and breathe in the beauty that stretches to the horizon and beyond.

At just past ten, the sky has already lost the orange and purple hues that defined the morning, and it spreads out like a cerulean blanket over a dancing sea that sparkles in the brilliant light of the climbing sun.

I'm no stranger to fine art—how can I be, married to a man like Damien Stark, who appreciates the arts and has the money to buy what he loves? And as I look out on this incredible vista, two thoughts are clear in my mind. First, that no painting or photograph could ever truly capture the majesty of this view. And second, that I am more blessed than I ever expected to be, and I'm grateful every day for the life I now have, so different from the horror that was my life back in Texas.

I have my children. My home. My work. My view.

And Damien, I think with a delicious frisson of delight. Most of all, I have Damien. My husband, my lover, my heart.

I exhale slowly, intentionally enjoying the moment. It's a good day. An easy day, and I feel like it's my due. After all, during our trip to San Francisco a few months ago, there'd been a chasm between Damien and me. Not deep—I don't know that there could ever be one that is deep or uncrossable between us, and if there ever were, the pain of that separation would kill me. But he'd been keeping secrets. Trying to protect me.

An ironic smile tugs at my mouth. I understand why he did it, but secrets between us never really work out. And now, of course, he owes me a do-over of that particular trip.

I'm considering when we could both squeeze out time for a jaunt back up the coast, when Abby bursts back onto the line with a breathless, "Sorry! Sorry! I didn't think I'd be away so long. Debugging this code is going to be the death of me."

My company, Fairchild & Partners Development, designs and implements corporate software as well as web and mobile device apps—both business and entertainment related. Today, Abby is tearing her hair out about Mommy's Helper, a deceptively simple app she conceived that incorporates parent-related reminders, appointment scheduling, audio and video monitors, direct messaging with babysitters, and other similarly useful parental tidbits in one place. We've been in beta-testing the last two weeks, and our official release day is just around the corner.

Naturally, the closer we get, the more glitches appear, but Abby's brilliant at programming, and she's tackled each challenge as it's come up. If she's having trouble now, this string of code must really be a beast.

"Travis wasn't any help?" I ask, referencing our newest employee.

"Not really." Silence hangs between us, and she rushes on. "I mean, he's got so much on his plate that I didn't ask him."

I press my palms together as if in prayer and tap my chin, debating between silence and speech. Silence is easier, but this is my company, and I need to be the grown-up even if my employees aren't.

Partner, I correct. She's only got a ten percent stake, but Abby is now my partner
. I brought her in when I was juggling the pressures of being a business owner and a new mom, and I don't regret it. Not only is she one hell of a programmer, but she also doesn't bullshit. If she says she can do something, she can. If she's not sure or screws up, she lets you know. And she doesn't play stupid workplace games.

Or she never has before.

With a sigh, I take a seat on one of the cushioned, outdoor chairs. I'm wearing a black bikini with a sheer blouse and a large scarf tied around my hips as a makeshift sarong. It opens as I sit, revealing bare thighs, both ridged with scars. Roughly, I cross my legs, shifting the scarf as I do to cover the exposed skin. Then I force myself to think about Abby. Not about my past and certainly not about the speech I'm delivering tomorrow morning.

Just Abby.

"So, I'll shoot you the code," she says. "And you can work your magic, okay?"

"That's one option. Or you could pull in Travis. Unless I'm misremembering, debugging code is a major part of his job description." I can hear the mom-tone in my voice, but can't seem to dial it back. "And since you haven't asked for his help already, that makes me think that you're either too proud—which isn't going to fly at this company—or you can't get past this dark cloud that's shoved its way between the two of you. And that's not going to fly either."

"Oh, hell." She mutters a long string of nearly unintelligible curses, presumably not meant for my ears, then draws a fortifying breath. "Nikki, I'm sorry," she says, once again sounding like the professional I know her to be. "I didn't mean for our personal crap to spill over into work."

I run my fingers through my hair, thinking. I'm certain I saw sparks flying between the two of them during his first weeks on the job. Now, those sparks have been replaced with an unpleasant tension and, apparently, an inability to work together.

Reluctantly, I push myself out of the chair, knowing what I have to do, but not liking it at all. "I don't know what happened between you two, but I do know that it's affecting your work. Yours, Abby. As far as I can tell, Travis is doing the work assigned to him. But I brought you in as a partner because I thought you could handle it. And that means getting past whatever happened between you two."

"I know."

"We're so small I never thought about setting out rules for dating inside the company—"

"We should never have—"

"—and I don't think we need rules like that now. But I might change my mind if you two don't work this out."

In the grand scheme of things, I'm not that much older than Abby, who's twenty-five. But right now, the chasm between the two of us seems wide. I've experienced so much—good and bad—and in many ways, Abby still has a small-town girl sheen, despite coming to LA years ago as a freshman at UCLA.

"Can you work it out? Or do we need to cut Travis loose?" I bite my lip as I wait for her to answer, hoping she won't call my bluff.

Thankfully, her answer comes quickly. "No—no, he's an asset. And it's probably my—never mind. I mean, I'll see if he can help with this section of code."

"What's he working on now?"

"He's running through all the support requests we've received this month on the smartphone apps and assigning code fixes to our freelancers if it's a legitimate bug. But he should have time to help. And you're right. He's as good as they come. Chances are he'll see the solution."

My body goes limp with relief. I haven't had to face too many management issues since I started my business—probably because I was a one-woman shop for a long time—and I give myself a pat on the back for successfully navigating this one.

Honestly, I shouldn't have let the tension between them get to this level. But that's the downside of working out of this bungalow—I spend less time with my co-workers than I did when the office was in Studio City, and that means I'm less tied in to the various nuances between my employees.

The upside, of course, is that I'm closer to the house. Just a few steps away, in fact, since the bungalow that I've been using as an office for almost two years is situated at the lowest point of our Malibu acreage.

When we first started going out—or, technically, when Damien first paid me a million dollars to pose for the nude portrait that now hangs in our third-floor open area—he was almost through with construction of the stunning hillside mansion that is now our home. Then, as now, the only flaw that I could find in the place was its distance from the beach. Situated on the slope of a hill, the house has a breathtaking view and every comfort imaginable, from an infinity pool to a helipad. But if you want to walk along the beach, you have to first traverse a serpentine, crushed stone path. No stepping out the back door and onto the sand, because even though the property is technically beachfront, the house isn't.

Enter my husband, who worked with an architect to design the bungalow as a gift for me. And though it originally served simply as an extension of our home, I've been using it as my office, a wonderful arrangement that allows me to be close to our daughters, Anne and Lara, even when I'm knee-deep in a project.

That, however, is coming to an end in just a few days, as Abby reminds me with her next question. "So, I'll meet you at the office?"

"That's the plan. I want you and Travis and Marge to make sure you're happy with your offices." I'm meeting a journalist at a nearby bakery for a quick profile piece in just over an hour. Then I'm going to lunch with my best friend, Jamie, before running a few more errands, including heading over to the new office space to go over the final punch list.

"Sounds good," she says. "You know, I thought I'd be bummed as we got closer. After all, no commute and working in my pajamas is great, but I'm really excited about being in an office again. I'm starting to talk to my dust bunnies."

"Keep your unconventional pets at home," I tell her. "But maybe we can negotiate a casual dress code."

Abby rewards my attempt at humor with an unladylike snort. "I'll send you over the list of all active projects as soon as we hang up," she promises. "It's a massive list—which is good because it means we're doing fabulous."

"We are, aren't we?" That fabulousness is part of the reason why we're leasing office space. I'd sold my original space not long after Anne was born when I decided to start working out of the bungalow. Back then, it was just me, Abby, and Marge, our office manager/general assistant/everything else. Abby worked primarily from home, and Marge split her time between working remotely and coming to the bungalow.

Now Anne is almost two, our client list is growing, we have a solid team of freelancers, and we're looking to hire at least one other full-time programmer, a marketing exec, and a client development manager. Even more important, revenue is not only up, but on a pretty sharp trajectory.

"Wow," Abby says.

"What?"

"I'm not sure I remember how to put on make-up."

"Liar," I say, making her laugh. "You put on makeup to go to the grocery store."

"Um, pot. Meet kettle."

I can't argue. I've worked hard to unlearn each and every lesson from The Elizabeth Fairchild Manual For Life, but on that count, my mother won; I've never managed to walk out of my home without looking my best. "I guess that's why we make a good team."

"Wednesday," she says, referring to our first official day in our new space.

"We'll have cake," I promise.

"In that case, I'll make sure I'm on time."

I roll my eyes. Which, of course, she can't see.

"Should I ask Travis to work on the Greystone-Branch updates?" Abby asks. "Or do you think we should wait until we bring in a new person?"

"It can wait a week. Let's see how Thursday and Friday's interviews go." We've had feelers out for a while, and five potential programmers are scheduled to come for interviews in the n
ew space, along with applicants for the other positions as well.

"Sounds good. Oh, and Marge and I are both coming to the brunch. Travis, too. We're all so excited."

"That's great." I swallow, a little guilty that I hadn't personally invited them. I'd agreed that the Stark Children's Foundation should send all my employees an invite—after all, the company donates to the SCF regularly—but I hadn't let myself think about the fact that they might actually be in the audience when I give my speech.

The prospect is daunting, and I slowly lower myself back into the deck chair, once again afraid that I'm making the wrong choice. That Saturday is going to go horribly, horribly wrong.

"Nikki?"

"Sorry. The connection went bad. You said you're all coming together?"

"We can't wait."

"Me, neither," I lie. Or, at least, it's a partial lie. I am excited. It's an honor to speak at the Foundation's annual brunch. But I'm also scared to death.