Wicked Torture
J. Kenner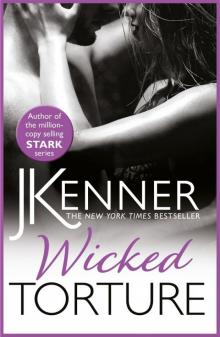 Copyright (c) 2017 Julie Kenner

Cover image (c) KasiaBialasiewicz/Bigstock Author photo (c) Kathy Whittaker Photography The right of J. Kenner to be identified as the Author of the Works has been asserted by her in accordance with the Copyright, Designs and Patents Act 1988.

First published in this Ebook edition in 2017

by HEADLINE ETERNAL

An imprint of HEADLINE PUBLISHING GROUP

Apart from any use permitted under UK copyright law, this publication may only be reproduced, stored, or transmitted, in any form, or by any means, with prior permission in writing of the publishers or, in the case of reprographic production, in accordance with the terms of licences issued by the Copyright Licensing Agency.

All characters in this publication are fictitious and any resemblance to real persons, living or dead, is purely coincidental.

Cataloguing in Publication Data is available from the British Library eISBN 978 1 4722 4695 0

HEADLINE PUBLISHING GROUP

An Hachette UK Company

Carmelite House

50 Victoria Embankment

London EC4Y 0DZ

www.headlineeternal.com

www.headline.co.uk

www.hachette.co.uk

Table of Contents

Title Page

Copyright Page

About the Author

Praise for J. Kenner

By J. Kenner

About the Book

Prologue

Chapter 1

Chapter 2

Chapter 3

Chapter 4

Chapter 5

Chapter 6

Chapter 7

Chapter 8

Chapter 9

Chapter 10

Chapter 11

Chapter 12

Chapter 13

Chapter 14

Chapter 15

Chapter 16

Chapter 17

Chapter 18

Chapter 19

Chapter 20

Chapter 21

Chapter 22

Chapter 23

Chapter 24

Epilogue

A special extract from Wicked Grind

The Stark Series

The Stark International Series

The S.I.N Series

Other unforgettable books by J. Kenner

Find out more about Headline Eternal

About the Author

J. Kenner (aka Julie Kenner) is the New York Times, USA Today, Publishers Weekly, Wall Street Journal, and No. 1 internationally bestselling author of over seventy novels, novellas, and short stories in a variety of genres.

Kenner has been praised by Publishers Weekly as an author with a 'flair for dialogue and eccentric characterizations' and by Romantic Times for having 'cornered the market on sinfully attractive, dominant antiheroes and the women who swoon for them.' A five-time finalist for Romance Writers of America's prestigious RITA award, Kenner took home the first RITA trophy awarded in the category of erotic romance in 2014 for her novel, Claim Me (book two of her Stark Trilogy).

In her previous career as an attorney, Kenner worked as a lawyer in Southern California and Texas. She currently lives in Central Texas with her husband, two daughters and two cats.

Visit J. Kenner online at www.juliekenner.com. Or connect with her via Twitter @juliekenner or through www.facebook.com/JKennerBooks.

Just some of the rave reviews for J. Kenner's powerfully sensual and erotic novels:

'Kenner may very well have cornered the market on sinfully attractive, dominant antiheroes and the women who swoon for them . . . Her characters' scorching, scandalous affair explores the very nature of attraction and desire, redeeming and changing them beyond measure' Romantic Times

'The plot is complex, the characters engaging, and J. Kenner's passionate writing brings it all perfectly together' Harlequin Junkie

'Another J. Kenner masterpiece . . . This was an intriguing look at self-discovery and forbidden love all wrapped into a neat little action-suspense package. There was plenty of sexual tension and eventually action . . . But can we expect anything less from J. Kenner?' Reading Haven

'The heat practically radiates from the page . . . This book is sexy, romantic, steamy and thrilling all wrapped into one extremely well written package' Books & Boys Book Blog

'J. Kenner's evocative writing thrillingly captures the power of physical attraction, the pull of longing, the universe-altering effect one person can have on another . . . Claim Me has the emotional depth to back up the sex . . . Every scene is infused with both erotic tension, and the tension of wondering what lies beneath Damien's veneer - and how and when it will be revealed' Heroes and Heartbreakers

'A toe-curling smokin' hot read, full of incredible characters and a brilliant storyline that you won't be able to get enough of. I can't wait for the next book in this series . . . I'm hooked!' Flirty & Dirty Book Blog

'I do believe that I just found my newest guilty pleasure' Hooker Heels Book Blog

'Kenner definitely knows how to write steamy love scenes and how to push the pain/pleasure envelope with her characters' Harlequin Junkie

'PERFECT for fans of Fifty Shades of Grey and Bared to You. Release Me is a powerful and erotic romance novel that is sure to make adult romance readers sweat, sigh and swoon' Reading, Eating & Dreaming Blog

'[A] sexy and exciting ride' Fresh Fiction

'This is deeply sensual and the story packs an emotional punch that I really hadn't expected . . . If you enjoyed Fifty Shades [and] the Crossfire books, you're definitely going to enjoy this one. It's compelling, engaging and I was thoroughly engrossed' Sinfully Sexy Blog

'Once again Kenner has written a book that reaches into your soul, pulls out all your emotions and leaves you with a smile' The Book Reading Gals

'I am in the "I loved Fifty Shades" camp, but after reading Release Me, Mr Grey only scratches the surface compared to Damien Stark' Cocktails and Books Blog

'It is not often when a book is so amazingly well-written that I find it hard to even begin to accurately describe it . . . I recommend this book to everyone who is interested in a passionate love story' Romancebookworm's Reviews

'Delivers both scorching hot scenes along with the evolution and unpeeling of emotional barriers built by past dark secrets. Moreover, the characters are complex, the passion is intense and the ultimate message that love can heal all is inspiring' The Romance Reviews (five stars)

'The story is one that will rank up with the Fifty Shades and Crossfire trilogies' Incubus Publishing Blog

'Be prepared for a roller coaster filled with twists and turns, ups and downs, hope, heartbreak and cliffhangers' Book Boyfriend Blog

By J. Kenner

The Stark World Series

Wicked Grind

Wicked Dirty

Wicked Torture

The Stark Series

Release Me

Claim Me

Complete Me

Anchor Me

The Stark Ever After Novellas

Take Me (e-novella) Have Me (e-novella) Play My Game (e-novella) Seduce Me (e-novella) Unwrap Me (e-novella) Deepest Kiss (e-novella) Entice Me (e-novella) Stark After Dark (paperback collection) The Stark International Series

Say My Name

On My Knees

Under My Skin

Steal My Heart (free short story) Take My Dare (e-novella) The S.I.N. Series

Dirtiest Secret

Hottest Mess

Sweetest Taboo

The Most Wanted Series

Wanted

Heated

Ignited

About the Book

He's very good at being bad . . .

Outwardly, Noah Carter is riding high as Stark Interna
tional's newest tech genius. Inside, he's still reeling from the death of his wife and daughter. But when an old girlfriend walks back into his life, Noah realizes three things: it's time to heal, Kiki is the woman he wants - and he'll do whatever it takes to convince her.

Aspiring singer Kiki Porter remembers Noah only too well. She'd believed he was the love of her life, but he walked away, ripping her heart into tiny shreds. Now he's back, and pursuing her with a sensual relentlessness that leaves her breathless.

She wants him - she does. But even though she melts in his arms, how can she trust that this time he'll stay? Especially when long-buried secrets threaten their hope for a future together . . .

Spellbinding romance. Electrifying passion. Why not indulge in J. Kenner . . .

Prologue

Nothing in this world is solid--I know that better than anyone. The way the world can suddenly shift beneath you. The way you can fight so hard and still lose everything. The way happiness can slip through your fingers.

Luck has never been my friend. On the contrary, it has mocked and teased me, dangling happiness like a carrot that is just out of reach.

I know that--I've known it for my entire life, and it has always eluded me.

That's why I should have known better. I should have never let him get close enough to break my heart.

But I did, and now he's back.

I should have run, but he touched me, and I froze. Then he kissed me, and the world fell away.

It's wonderful.

It's terrifying.

And all I can do now is hope that he has the strength to save us both.

1

She had an obsession with swizzle sticks.

Noah tried to concentrate on his date's words, but it wasn't easy. She kept twisting the plastic stick between her fingers, then lifting it to her cherry red lips and teasing small drops of liquid from the end with her tongue.

He supposed that she thought it was sexy. That somehow, by stroking her tongue against the thin rod, she was making him hard.

She wasn't.

Which was probably for the best. He hadn't wanted to come out tonight, after all.

Or, correction, he hadn't wanted to come out tonight with an actual date. He'd wanted a pick-up. A one-night stand during which he could exorcise all the demons that had been roiling inside him, building up since the last time he'd let himself go. When getting lost in his work no longer had the power to battle back the memories or the guilt.

A hot, fast, intimate encounter with no strings and absolutely no purpose except the participants' mutual satisfaction. Hers, in the form of the explosive orgasm that he was more than happy to provide. His in the simple act of stepping outside of himself and away from the ghosts and the memories. Of getting lost in erotic sensations and the comfort of knowing that even though he'd destroyed two women completely, with this woman at least he could bring pleasure.

Correction. Three women. He'd destroyed three women.

The voice in his head was harsh. Insistent. And he winced, his body tightening as if steeling himself for a blow.

Three woman, yes. But not really. Two women, and a child.

Darla, his wife.

Kiki, his love.

And little Diana, who never even saw her first birthday. Oh, God.

His stomach lurched, and he fought the urge to close his eyes in defense against the memory now filling his head. His sweet Diana's lifeless body, as clear and crisp and horrible as the reality had been all those years ago.

He'd never forget--hell, he didn't want to forget.

But it had been almost nine years since Darla and Diana had been kidnapped in Mexico City, and his friends were right--he had to move on. His wife and daughter were gone, and he was here. Alive and well and trying so damn hard to block out the morass of guilt and loss, to keep it at bay with long hours of work and clandestine moments of physical release that never provided any true relief despite his continued delusions that it would help.

Which brought him right back to Evie and her swizzle stick.

"She's a lawyer based in LA, but she spends a lot of time in Austin," his friend Lyle had said when he'd insisted that Noah meet Evie for drinks. "She's pretty and smart and funny. And if it doesn't work out it's just one night out of your life. So suck it up and meet her, okay?"

Noah had wanted to say no. But he also knew it was time to start clawing his way back into the world.

So he was starting with Evie. And Lyle was right. She was smart, and she was pretty.

She might not be anonymous, but she was probably good in bed, and God knew he needed someone tonight. Needed those few moments of pure oblivion.

This week had been harder than most, and if Evie could help him forget . . .

He shifted in the leather armchair as he looked at her. They were tucked away in a dark corner of the bar, a small cocktail table between them. She'd stopped sucking on the swizzle stick, and now she was using it as a pointer.

"I've always loved this hotel," she said, indicating the interior of the Texas-themed bar area. The Longhorn cattle head mounted above a fireplace. The oil paintings of ranch scenes. The sofas upholstered in cowhide and leather.

Before he'd moved to Austin six months ago, he'd imagined that all of Texas resembled the inside of this bar. He'd been deeply relieved to learn he was wrong.

It was a Wednesday night, but even so, the place was crowded. The Driskill Hotel had been an Austin landmark since the 1800s, and Noah had become familiar with its restaurant, bar, and rooms during his first weeks in Austin after moving from LA. At the time, his condo was still being painted, and so he'd spent ten days in one of the suites until his own place was ready.

"It's haunted, you know," he told her.

"That's what everyone says, but I stay here every time I come from LA, and I haven't once seen a ghost. I always tell them I want one of the haunted rooms, but I never get that lucky."

"Lucky," he repeated. Considering how hard he worked to avoid the ghosts in his own life, he wasn't sure he agreed with her evaluation. "Sounds fascinating in theory, but wouldn't you be scared? Or aren't you that kind of girl?" He added the last with a tease in his voice. Because he did like her. And it wasn't her fault that she'd signed up for the deluxe Man-With-Issues package. And it really was time; he needed to start dating, not just fucking. He needed to slide back into the world.

"Scared? Oh, please." She waved a hand as if to dismiss the idea. "I'm a lawyer, remember? That's probably why I've never seen one. The ghosts run from me in terror."

He laughed, and she grinned, her smile lighting up the darkened bar. For a moment their eyes met and a single thought entered his head--maybe.

"Would you like another?" He nodded to indicate her fruity cocktail. He'd finished his own drink--two shots of bourbon, straight up--and he didn't really want another. But the air had become thick with potential, and he needed time to decide what to do about that. Dive in . . . or make an excuse and call it a night.

"Another drink sounds nice," she said. "And more conversation sounds even better. But the acoustics in here are tricky, and I'm starting to think this chair might be haunted, after all. I'm pretty sure I'm going to disappear into this cushion and come out in some other dimension."

Her eyes twinkled as she spoke, and he knew where she was going. What he still didn't know was if he should follow her there.

"My suite's just a few floors away," she said. "Definitely quieter. It's messy--I have depositions spread out all over the coffee table. But the couch is comfortable and there's a wet bar that's nicely stocked . . ."

She trailed off with a small shrug of invitation.

"And you don't have anywhere to be tomorrow morning," he pointed out, remembering what she'd said when they'd spoken that afternoon. Her case had settled during the lunch break when the plaintiff she'd been examining decided that he wasn't feeling litigious after all. Suddenly, she not only had this night free, but most of tomorrow as well, since she'd been
unable to change her evening flight back to Los Angeles.

"True," she said, tugging her purse up to her lap as if in preparation to leave. "We can talk all night if you want. Or not talk," she added boldly, as if he could have misinterpreted the direction of this conversation.

"There is a certain virtue in silence." He kept his tone light. Flirtatious. But inside he was still debating.

Lyle's voice seemed to fill his head. "I'm not saying you need to marry her. But put yourself out there. Interact with the world. Start breathing again, man. Trust me. It's worth it."

Of course, Lyle would think so. Like Noah, Lyle had closed himself off from anything resembling a real relationship. But that was before Sugar Laine walked into his life. Now, Lyle was the happiest that Noah had ever seen him, and Noah knew that had everything to do with Sugar.

Noah wasn't Lyle, but maybe his friend was right. And, honestly, Noah had known for months--hell, maybe years--that it was time to move on. Time to stop with the quick and dirty encounters that did nothing to dull his pain.

Time to heal.

Somehow, though, he never found the enthusiasm. Or maybe that was just an excuse. Another way of punishing himself for walking away from the woman he loved in favor of the woman he'd owed.

And since he'd never have either of them again, he needed to kick his own ass, pick up the pieces of his life, and start building something real. After all, there wasn't a tech gadget he couldn't design, build, or repair. So why was he so clueless when it came to his own damn life?

It was time, and it would be easy. Painless even, because God knew Evie embodied everything he admired in a woman. Strength. Intelligence. Ambition. Humor. Beauty. She was as desirable as Lyle had promised and obviously enthusiastic.

In other words, he was all out of excuses.

He stood up, intending to tell her to lead the way. But the words that came out of his mouth shocked them both. "I'm sorry, Evie," he said. "You've been wonderful, but I have an early meeting, and I should probably get home."

"Oh." He'd surprised her as she was rising, and now she teetered awkwardly on her heels, as if his unexpected words would physically topple her.

He reached out a hand to steady her, and for the briefest moment, he considered pulling her close and fighting his way past his hesitation. She was everything he should want in a woman--with the unfortunately insurmountable problem that she wasn't what he wanted at all. Or, rather, she wasn't who he wanted.