Xo blake, p.1





XO, Blake, p.1

Avery Aster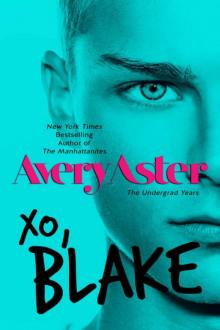 XO, Blake (The Undergrad Years)
Avery Aster
For fans of the dark comedy BDSM film Tie Me Up, Tie Me Down comes an erotic exploration in domination and submission where Ivy League students let their naughtiest desires run wild…
If you think my besties Lex, Taddy, and Vive have had some bad luck earlier this year, cut to me at Glamorama. Last thing I remembered was dancing with Diego and Miguel from my English class, but then the room started… spinning. And not in a good way! We got sick. Think Regan in The Exorcist. Taddy was rushed to the hospital. Holding on for dear life, I was carried out by the boys and taken back to their dorm.
Now I'm waking up in Diego's bed and Miguel keeps staring at me from across the room. I've wanted to get into these dudes' pants since the first day of class. But Diego told me he likes to be tied up and—wait for it—spanked. WTF! The news on TV reports that last night we all got roofied. And Vive just texted me saying that someone is out to kill her. Could this semester get any more bizarre? –Blake Morgan, college freshman, gay best friend, virgin.
The Undergrad Years is a naughty new adult contemporary miniseries about first loves, independence, and everlasting friendships.
Reader Warning:
Often while reading Avery Aster's books, readers have been known to experience hot flashes, orgasms, and laughter to the point of peeing in their pants.
It's suggested that you have a bucket of ice nearby, along with a chilled glass of champagne and your favorite sex toy—fully charged—before reading this story.
Please note that Avery's writing is not suitable for prudes, slut-shamers, or uptight readers who don't have a sense of humor about money, sex, or fame. Avery's books are not intended for anyone under the age of 18.
Have fun!
Swag and reader contests can be found on Avery's blog at: AveryAster.com
Interact with Avery while reading XO, Blake on Instagram and Twitter @AveryAster using the hashtags #UndergradYears #NewAdult
Love, Lex (The Undergrad Years)
by Avery Aster…
"Out of all the books I've read by Avery Aster, Love, Lex is my favorite. The story shines with a mixture of reality meets fantasy."
—Piece of My Mind
"Tongue in cheek humor with the Avery Aster story telling that we've all grown to enjoy make Love, Lex a great story about a sassy young woman and a hot Harley riding cop."
—Kirstie's Passionate about Reading
"A brilliant 'getting to know you' novel about my favorite heroine, Lex Easton."
—Mrs. B's Books.
"Love, Lex has you crossing your fingers for Lex, cursing her mom and ex-boyfriend, itching to slap her best friend, then fanning yourself down when her luck turns for the better with Officer Ford."
—Written Love Blog
"Avery Aster is definitely a must read author. All new adult fans should give Love, Lex a go!"
—Turner's Antics
"Snarky, irreverent, and hilarious, Love, Lex is a 'I just can't get enough' novel, like the IT Girl and Gossip Girl. One of my new favorites for sure."
—Katsmiao Books Are My Life
"Avery Aster has managed to make the tale of the poor little rich girl into something engaging, captivating, and sexy with very memorable characters."
—Deluged with Books Café
"Avery Aster is totally amazingly. I'm in love with The Undergrad Years. I can't wait to read the other books in the series."
—Reader's Heaven
"These four delightful friends draw you into their world with a twist and a shake of sheer insanity. Love, Lex brightened up my day."
—Jezebell Girl & Friends
"I have a soft spot for Lex. Getting into her head was freaking fantastic. Lex's daydreams of seduction were both laugh out loud and hot!"
—The Dirty Smut'atter
"It's been a long time since I've laughed so hard while reading a book. I was drawn into the story with Avery Aster's witty writing, clever plot, and hilarious characters."
—Old Victorian Quill
"All in all, Love, Lex is an amazing book that makes me want to relive my undergrad years with Lex as my BF4L."
—1 Million Pages Later
"If you ever want a sure thing book, grab anything by Avery Aster! I had such a great time with Love, Lex."
—Saucy Reviews on Kinky Korner
"Love Lex moves at 100 mph. I loved every minute of it. Avery Aster is a master of creating a wild and crazy bunch of characters. Enjoy the ride."
—Lauren King Book Reviews
Yours Truly, Taddy (The Undergrad Years)
by Avery Aster…
"Best friends, hot sex, and adventure are sprinkled throughout the pages of Yours Truly, Taddy. "Readers will end the book with a smile on their face and a keen sense of anticipation for the next novel in The Undergrad Years."
—Little Read Riding Hood
"I highly recommend Yours Truly, Taddy to anyone looking to escape inside a wonderful story."
—Loves All Things Books
"Yours Truly, Taddy is well written. I adored the characters and loved how the book turned out."
—Escape into a Book
"In the midst of tragedy Aster still manages to make me laugh. I love the story as it reads like you're having an afternoon of girl talk. I am hooked and need to find out what happens to these friends, specifically hoping to see one centered on everyone's favorite GBF."
—SBM Book Reviews
"Thank you Avery Aster for these wonderful characters. Yours Truly, Taddy shines!"
—Anny's Book Reviews
"Taddy Brill is my favorite Manhattanite. I was happy to learn how her love of Candy Land came about."
—Mummy's Naughty Corner
"Entertaining from beginning to end, I felt for Taddy. Her inner strength is palpable."
—Piece of My Mind
"Even though there are some pretty heavy topics covered in this series, Avery Aster finds a way to tell the story giving readers lots of laughs but without minimizing the seriousness of the situations that this group of friends face."
—Em & M Books
"There is more snarkiness, sexiness, craziness, awesomeness and a whole bunch of other 'nesses' in Yours Truly, Taddy."
—Books Are My Life
"Much deeper than I expected, Yours Truly, Taddy isn't just all sex and laughs. There's also serious soul searching done by Taddy and it did not disappoint."
—More Than Words
"This is a wonderful read about growing up. I love how the stories flow from one to the other. Avery's characters have such a quirky outlook on life."
—Love of Books
"The humor in Yours Truly, Taddy specifically the way these girls talk about their V Card and other private things is hysterical. They enjoy themselves and that's what many teenagers now a days seem to forget to do."
—Trina's Tantalizing Tidbits
"The Fab Four sparkle and Yours Truly, Taddy is a pure joy to read. I can't wait for XO, Blake and Always & Forever, Vive."
—Jennifer's Book Obsession
XO, Blake
Copyright 2014 Avery Aster
Cover Design by Cover It! Designs
Formatted by Mark's Ebook Formatting
Email
[email protected]
for more info
All rights reserved. Without limiting the rights under copyright reserved above, no part of this publication may be reproduced, stored in or introduced into a retrieval system, or transmitted, in any form, or by any means (electronic, mechanical, photocopying, recording, or otherwise) without the prior written permission of both the copyri
ght owner and the above publisher of this book.
This is a work of fiction. Names, characters, places, brands, media, and incidents are either the product of the author's imagination or are used fictitiously. The author acknowledges the trademarked status and trademark owners of various products referenced in this work of fiction, which have been used without permission. The publication/use of these trademarks is not authorized, associated with, or sponsored by the trademark owners.
This e-book is licensed for your personal enjoyment only. This e-book may not be re-sold or given away to other people. If you would like to share this book with another person, please purchase an additional copy for each recipient. If you're reading this book and did not purchase it, or it was not purchased for your use only, then please return to your favorite e-book retailer and purchase your own copy. Thank you for respecting the hard work of this author.
New York, New York 10021
First edition: May 2015
www.AveryAster.com
Author's Note
A Different Kind of Boy
Cast of Characters
Part One: Never Drink the Free Cocktails
Prologue: From the Desk of Fairfield School for Boys
Chapter One: Mr. Yoo-hoo
Chapter Two: Think Regan MacNeil in the Exorcist
Chapter Three: Charlie Brown's Mother
Part Two: Shit Storm
Chapter Four: Paging Dr. Phil
Chapter Five: The Secrets That Bind
Chapter Six: The Death of Fear
Part Three: Bondage Twink
Chapter Seven: Tie Him Up, Tie Him Down
Chapter Eight: Love Me Some Enrique Iglesias!
Chapter Nine: Two Wigs & A Donut
The End
Get Unsaid
Dedication & Special Acknowledgments
About Avery Aster
There's More
Also By Avery Aster
A Smexy Excerpt
Hello, Gorgeous Reader,
OMFG. I have a free ebook for you. Join my newsletter http://www.eepurl.com/CQ665
Welcome to The Undergrad Years! If you're new to this series, don't worry. Each book may be read as a stand-alone and in any order. I promise you won't be lost.
Blake is the gay best friend that Lex, Taddy and Vive lean upon and can't seem to live without. Why? Because he's fucking fabulous! *wink* I hope you fall in love with Blake as much as I did while writing his story.
XO, Blake (The Undergrad Years) takes place in 2002 and is a naughty, new adult prequel companion to the full-length, stand-alone erotic romance novel Unsaid (The Manhattanites) which takes place in present time.
For 'Man Candy' and fun quotes, tweet or Instagram with me @AveryAster while reading this story and let me know what you think. I swear on my lifetime supply of Diet Coke I'll follow 'ya back.
Hugs from NYC,
Avery
A Coming of Age Poem
They call me Blake
I always knew I was different
My voice would go up just a bit too high
I played with dolls and kept my sights on the sky
The first time I was called a faggot…I was seven
Although I didn't know what that word meant
I knew it was intended to make my spirit descend
I wanted to kiss boys by the time I was eleven
I always knew I was different
Regardless, my parents adored me
My friends protected me
In time I learned to like me, too
But I wanted to be loved by that one special boy
I always knew I was different
As I've gotten older the gays have, too
We're no longer boys but men
Some have fucked up their lives with drugs
Others have gotten sick with bugs
We're still loving like there's no tomorrow though
And in the end…I'm still a different kind of boy
Please, just call me Blake
Blake Morgan III (18): He's starting to have feelings for Diego and discovers that being on top has its advantages. Especially when his own life is spinning out of control.
Alexandra "Lex" Easton (18): Daughter to famed rockers Eddie & Birdie Easton, she is dumped by her hot cop boyfriend after breaking the law…again, and wants to try and leave her past behind.
Tabitha Adelaide "Taddy Brill" Brillford (18): Roofied at a club and faced with doubts about college, Taddy questions staying in New York City or moving to France.
Viveca "Vive" Farnworth (18): Lhaso Apso lover and heiress to Farnworth Firewater Liquor Company, Vive is a party girl who is convinced someone is out to kill her Manhattanites.
Diego Oalo (19): He takes a liking to Blake and teaches him the art of rope in bed.
Miguel Santana (18): As Diego's roommate, he's not sure what to make of The Manhattanites. He thinks they're trouble.
Thor Edwards (18): Blake's roommate at college. After being dealt some life-altering news, he's thinking of dropping out.
Birdie Easton (39): Lex's rehabbed mother, she suffers from sexual compulsive disorder, and is a heavy metal music icon.
Paulina Morgan (age unknown): Blake's protective mother who has special ESP powers and always knows when her son is in trouble.
Leon Lartique (19): Taddy's European boyfriend who lives in Paris. They met on a fashion shoot and have kept the flame going, albeit long-distance.
Never Drink the Free Cocktails
"Blake Morgan III is what Lex, Taddy, and I call a goodie-goodie. Unlike his fellow Manhattanites, he comes from a loving and supportive home where his parents encourage him to be just who he is—gay and proud! Oh, and boy, is he. Regardless, it seems anytime one of us tries to lose our Lady-V, we end up in some horrific accident. From doing time in juvie to Soho penthouse explosions and nose-diving airplanes into the Atlantic Ocean, the white wine spritzers we drank that night were no different. You ask, why does this shit-on-a-stick keep happening to us? Well, duh, you ninny. Someone is out to kill us! Isn't that obvious?" —Vive Farnworth, wealthiest teenager in New York, socialite and aspiring gossip columnist.
From the Desk of Fairfield School for Boys
September 21, 1988
Dear Mr. and Mrs. Morgan,
We enjoy having Blake in our school. He is bright and enthusiastic about his studies. However, it has come to our attention that he brings his Barbies to class. He talks to them, gives them names, and is convinced they are his real-life friends. He admits that you've even built him a dollhouse in your backyard. Good for you!
While his teachers are amused by his delights and encourage him to have an active imagination, we find his attraction to these specific kinds of toys alarming. With that said, I've attached a list of suggested games and toys for young men his age which are more appropriate. Please call my office if you have any questions.
Yours Fondly,
Principal Mark Strickland
April 18, 1993
Dear Mr. and Mrs. Morgan,
Today, your son wore makeup to school. While we applaud his chutzpah, especially the fuchsia-colored lipstick and matching sparkly nail polish, we do not allow ten-year-olds to wear cosmetics to class. It's distracting, draws unwanted attention, and causes him to be taunted by his peers.
When questioned as to where Blake got them, he says you gave him the cosmetics, at his request, and told him to do with it as he pleased. This age can be trying, and we want to make it as easy for Blake to come into his manhood as possible. We care about his well-being and have sent him to the infirmary to wash his hands and face.
Take Care,
Principal Mark Strickland
June 3, 1996
Dear Mr. and Mrs. Morgan,
Blake's test scores are exceptional. He doesn't let his dyslexia get the best of him. He remains one of our top students and is on the road to great academia. Regardless, after
the recent mishap where his classmates baited a pack of dogs to maul your son on his way home from school, we fear for his safety. We empathize with him and you during this troubling situation.
Nevertheless, because Blake continues to express his newfound sexual orientation freely and with such an in-your-face manner, he poses a threat to our entire student body and himself. We cannot invite him back in the fall and are truly sorry.
I've attached a letter of recommendation for Blake to attend Avon Porter Academy. This private (and selective) college preparatory was named the number one girls' boarding school by the Manhattanite Times and will be going co-ed in the fall. They should welcome Blake with open arms. And again, we're sorry to hear about the dog attack. It didn't happen on our grounds; therefore, it's out of our hands.
Goodbye and Good Luck,
Principal Mark Strickland
Mr. Yoo-hoo
December 2002
Glamorama, Upper West Side, New York
My mother, Paulina Morgan, told me while growing up that I was always early for everything in life.
She'd said, "When you were born, you weighed two pounds, six ounces, and were three months ahead of schedule. Shoot, you were so tiny I had to bathe you in a mixing bowl because I figured you'd drown in the kitchen sink."
Isn't that cute?
As I got older and learned how to read and write, I often inverted my letters and sometimes words. There was a period of my life around the age of nine where I'd speak and say things sorta backwards, too. The boys in school used to say I was dumb, while the teachers diagnosed me as dyslexic.
Refusing to put me in a 'special' school, my mom had stated, "Honey, your brain is just running so fast that your tongue can't catch up with what you're thinking. Slow down. You don't always have to be the first at everything. Take your time."
I never did.
When puberty had struck, I started getting hair under my armpits, and I noticed I got an erection every time I— thought about/caught sight of/stood next to/got a whiff of—the older boy who lived across the street from where I'd grown up.