River of blue fire, p.1

River of Blue Fire, p.1
Tad Williams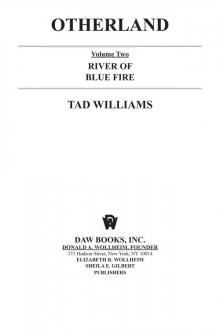 DAW BOOKS PRESENTS
THE FINEST IN IMAGINATIVE FICTION BY
Tad Williams
TAILCHASER'S SONG
MEMORY, SORROW, AND THORN
THE DRAGONBONE CHAIR (Book 1)
STONE OF FAREWELL (Book 2)
TO GREEN ANGEL TOWER (Book 3)
OTHERLAND
CITY OF GOLDEN SHADOW (Book 1)
RIVER OF BLUE FIRE (Book 2)
MOUNTAIN OF BLACK GLASS (Book 3)
SEA OF SILVER LIGHT (Book 4)
OTHERLAND
* * *
Volume Two
RIVER OF BLUE FIRE
* * *
TAD WILLIAMS
DAW BOOKS, INC.
DONALD A. WOLLHEIM, FOUNDER
375 Hudson Street, New York, NY 10014
ELIZABETH R. WOLLHEIM
SHEILA E. GILBERT
PUBLISHERS
Copyright © 1998 by Tad Williams.
All Rights Reserved.
Jacket art by Michael Whelan.
For color prints of Michael Whelan's paintings, please contact:
Glass Onion Graphics
P.O. Box 88
Brookfield, CT 06804
DAW Book Collectors No. 1090.
DAW Books are distributed by Penguin Putnam Inc.
Book designed by Stanley S. Drate/Folio Graphics Co., Inc.
"Ancient Egyptian Protective Charm" copyright © 1966, 1978 by Barbara Mertz, from RED LAND, BLACK LAND by Barbara Mertz.
Reprinted by permission of the author.
All characters and events in this book are fictitious.
Any resemblance to persons living or dead is strictly coincidental.
First printing, July 1998
1 2 3 4 5 6 7 8 9
DAW TRADEMARK REGISTERED
U.S. PAT. OFF. AND FOREIGN COUNTRIES
—MARCA REGISTRADA
HECHO IN U.S.A.
This book is dedicated to my father,
Joseph Hill Evans,
with love.
As I said before, Dad doesn't read fiction. He still hasn't noticed that this thing is dedicated to him. This is Volume Two—let's see how many more until he catches on.
Acknowledgements
As always: huge book, much to say, lots of blame (almost entirely mine), but also lots of credit, herewith tendered. The ever-swollen Roster of Gratitude carried over from the first doorstopping volume was:
Deborah Beale, Matt Bialer, Arthur Ross Evans, Jo-Ann Goodwin, Deb Grabien, Nic Grabien, Jed Hartmann, John Jarrold, Katharine Kerr, M.J. Kramer, Mark Kreighbaum, Bruce Lieberman, Mark McCrum, Peter Stampfel, Mitch Wagner.
It must now be amended to include:
Barbara Cannon, Aaron Castro, Nick Des Barres, Tim Holman, Nick Itsou, Jo and Phil Knowles, LES.., Joshua Milligan, Eric Neuman, Michael Whelan, and all the friendly folks on the Tad Williams Listserve.
Still starring in their long-running, long-suffering roles as my Esteemed Editors, a bazillion thanks should also be rendered unto Betsy Wollheim and Sheila Gilbert.
Author's Note
I've received an awful lot of mail, electronic and old-fashioned-with-a-stamp both, about the first OTHERLAND volume. Most, I'm pleased to say, has been extremely nice and very favorable. The only note of discomfort has been from some readers who were upset by what they felt was the "cliffhanger" nature of the first volume's ending.
I understand and apologize. However, the problem with writing this kind of story is that it's not really a series—it's one very, very long novel, which should be under one cover except that 1) it would take so long to write that my family and pets would starve, and 2) they couldn't make covers that size, unless they were adapted from circus tents. That means I have a difficult choice to make: end each part in more abrupt fashion than some readers find ideal, or create artificial endings for each volume which I believe would change the overall shape of the book, and perhaps even adversely affect the structure of the story.
Thus, I can only ask for the indulgence of kind readers. I'll do the best job I can not to end volumes in mid-sentence—"And then she discovered she was . . . oops, The End"—but please understand that what you're getting is a part of a larger work, and may reflect that. I'll still do the best I can to find some kind of closure for each individual volume.
Thanks.
For more information, visit the Tad Williams web site at: http://www.tadwilliams.com
Contents
Acknowledgements
Author's Note
City of Golden Shadow: Synopsis
Foreword
THE SECRET RIVER
Deep Waters
Greasepaint
The Hive
In The Puppet Factory
The Marching Millions
Man from the Dead Lands
Grandfather's Visit
Fighting Monsters
The Hollow Man
Small Ghosts
Utensils
The Center of the Maze
VOICES IN THE DARK
The Dreams of Numbers
Games In The Shadows
A Late Crismustreat
Shoppers and Sleepers
In The Works
The Veils of Illusion
A Day's Work
The Invisible River
In the Freezer
GODS AND GENIUSES
Inside Out
Beside Bob's Ocean
The Most Beautiful Street in the World
Red Land, Black Land
Waiting for the Dreamtime
The Beloved Porcupine
Darkness in the Wires
BEDLAM'S SONG
Imaginary Gardens
Death and Venice
The Voice of the Lost
Feather of Truth
An Unfinished Land
Afterword
OTHERLAND: City of Golden Shadow
Synopsis
Wet, terrified, with only the companionship of trench-mates Finch and Mullet to keep him sane, Paul Jonas seems no different than any of thousands of other foot soldiers in World War I. But when he abruptly finds himself alone on an empty battlefield except for a tree that grows up into the clouds, he begins to doubt that sanity. When he climbs the tree and discovers a castle in the clouds, a woman with wings like a bird, and her terrifying giant guardian, his insanity seems confirmed. But when he awakens back in the trenches, he finds he is clutching one of the bird-woman's feathers.
In South Africa, in the middle of the twenty-first century, Irene "Renie" Sulaweyo has problems of her own. Renie is an instructor of virtual engineering whose newest student, !Xabbu, is one of the desert Bushmen, a people to whom modern technology is very alien. At home, she is a surrogate mother to her young brother, Stephen, who is obsessed with exploring the virtual parts of the world communication network—the "net"—and Renie spends what little spare time she has holding her family together. Her widowed father Long Joseph only seems interested in finding his next drink.
Like most children, Stephen is entranced by the forbidden, and although Renie has already saved him once from a disturbing virtual nightclub named Mister J's, Stephen sneaks back in. By the time Renie discovers what he has done, Stephen has fallen into a coma. The doctors cannot explain it, but Renie is certain something has happened to him online.
American Orlando Gardiner is only a little older than Renie's brother, but he is a master of several online domains, and because of a serious medical condition, spends most of his time in the online identity of Thargor, a barbarian warrior. But when in the midst of one of his adventures Orlando is given a glimpse of a golden city unlike anything else he has ever seen on the net, he is so distracted that his Thargor character is killed. Despite this terrible loss, Orlando cannot shake his fascination with the golden city, and with the support of his software agent Beezle Bug and the reluctant help of his online friend Fredericks, he is determined to locate the golden city.
Meanwhile, on a military base in the United States, a little girl named Christabel Sorensen pays secret visits to her friend, Mr. Sellars, a strange, scarred old man. Her parents have forbidden her to see him, but she likes the old man and the stories he tells, and he seems much more pathetic than frightening. She does not know that he has very unusual plans for her.
As Renie gets to know !Xabbu the Bushman better, and to appreciate his calm good nature and his outsider's viewpoint on modern life, she comes to rely on him more and more in her quest to discover what has happened to her brother. She and !Xabbu sneak into the online nightclub, Mr. J's. The place is as bad as she feared, with guests indulging themselves in all manner of virtual unpleasantness, but nothing seems like it could have actually physically harmed her brother until they are drawn into a terrifying encounter with a virtual version of the Hindu death-goddess Kali. !Xabbu is overcome, and Renie, too, is almost overwhelmed by Kali's subliminal hypnotics, but with the help of a mysterious figure whose simulated body (his "sim") is a blank, with no features at all, she manages to get herself and !Xabbu out of Mister J's. Before she goes offline, the figure gives her some data in the form of a golden gem.
Back (apparently) in World War I, Paul Jonas escapes from his squadron and makes a run for freedom through the dangerous no-man's-land between the lines. As rain falls and shells explode, Paul struggles through mud and corpses, only to find he has crossed over into some nether-region, stranger even than his castle dream—a flat, misty emptiness. A shimmering golden light appears, and Paul is drawn to it, but before he can step into its glow, his two friends from the trenches appear and demand that he return with them. Weary and confused, he is about to surrender, but as they come closer he sees that Finch and Mullet no longer appear even remotely human, and he flees into the golden light.
In the 21st Century, the oldest and perhaps richest man in the world is named Felix Jongleur. His physical body is all but dead, and he spends his days in a virtual Egypt he has built for himself, where he reigns over all as Osiris, the god of Life and Death. His chief servant, both in the virtual and real world, is a half-Aboriginal serial murderer who has named himself Dread, who combines a taste for hunting humans with a strange extrasensory ability to manipulate electronic circuitry that allows him to blank security cameras and otherwise avoid detection. Jongleur discovered Dread years before, and helped to nurture the young man's power, and has made him his chief assassin.
Jongleur/Osiris is also the leader of a group of some of the world's most powerful and wealthy people, the Grail Brotherhood, who have built for themselves a virtual universe unlike any other, the Grail Project, also called Otherland. (This latter name comes from an entity known as the "Other" which has some important involvement with the Grail Project network—an artificial intelligence or something even stranger. This powerful force is largely in the control of Jongleur, but it is the only thing in the world that the old man fears.)
The Grail Brotherhood are arguing among themselves, upset that the mysterious Grail Project is so slow to come to fruition. They have all invested billions in it, and waited a decade or more of their lives. Led by the American technology baron Robert Wells, they grow restive about Jongleur's leadership and his secrets, like the nature of the Other.
Jongleur fights off a mutiny, and orders his minion Dread to prepare a neutralization mission against one of the Grail members who has already left the Brotherhood.
Back in South Africa, Renie and her student !Xabbu are shaken by their narrow escape from the virtual nightclub known as Mister J's, and more certain than ever that there is some involvement between the club and her brother's coma. But when she examines the data-object the mysterious figure gave her, it opens into an amazingly realistic image of a golden city. Renie and !Xabbu seek the help of Renie's former professor, Dr. Susan Van Bleeck, but she is unable to solve the mystery of the city, or even tell for certain if it is an actual place. The doctor decides to contact someone else she knows for help, a researcher named Martine Desroubins. But even as Renie and the mysterious Martine make contact for the first time, Dr. Van Bleeck is attacked in her home and savagely beaten, and all her equipment destroyed. Renie rushes to the hospital, but after pointing Renie in the direction of a friend, Susan dies, leaving Renie both angry and terrified.
Meanwhile Orlando Gardiner, the ill teenager in America, is hot in pursuit of the golden city that he saw while online, so much so that his friend Fredericks begins to worry about him. Orlando has always been odd—he has a fascination with death-experience simulations that Fredericks can't understand—but even so this seems excessive. When Orlando announces they are going to the famous hacker-node known as TreeHouse, Fredericks' worst fears are confirmed.
TreeHouse is the last preserve of everything anarchic about the net, a place where no rules dictate what people can do or how they must appear. But although Orlando finds TreeHouse fascinating, and discovers some unlikely allies in the form of a group of hacker children named the Wicked Tribe (whose virtual guise is a troop of tiny winged yellow monkeys) his attempts to discover the origins of the golden city vision arouse suspicion, and he and Fredericks are forced to flee.
Meanwhile Renie and !Xabbu, with the help of Martine Desroubins, have also come to TreeHouse, in pursuit of an old, retired hacker named Singh, Susan Van Bleeck's friend. When they find him, he tells them that he is the last of a group of specialist programmers who built the security system for a mysterious network nicknamed "Other-land," and that his companions have been dying in mysterious circumstances. He is the last one alive.
Renie, !Xabbu, Singh, and Martine decide they must break into the Otherland system to discover what secret is worth the lives of Singh's comrades and children like Renie's brother.
Paul Jonas has escaped from his World War I trench only to find himself seemingly unstuck in time and space. Largely amnesiac, he wanders into a world where a White Queen and a Red Queen are in conflict, and finds himself pursued again by the Finch and Mullet figures. With the help of a boy named Gally and a long-winded, egg-shaped bishop, Paul escapes them, but his pursuers murder Gally's children friends. A huge creature called a Jabberwock provides a diversion, and Paul and Gally dive into a river.
When they surface, the river is in a different world, a strange, almost comical version of Mars, full of monsters and English gentleman-soldiers. Paul again meets the bird-woman from his castle dream, now named Vaala, but this time she is the prisoner of a Martian overlord. With the help of mad adventurer Hurley Brummond, Paul saves the woman. She recognizes Paul, too, but does not know why. When the Finch and Mullet figures appear again, she flees. Attempting to catch up to her, Paul crashes a stolen flying ship, sending himself and Gally to what seems certain doom. After a strange dream in which he is back in the cloud-castle, menaced by Finch and Mullet in their strangest forms yet, he wakes without Gally in the midst of the Ice Age, surrounded by Neandertal hunters.
Meanwhile in South Africa, Renie and her companions are being hunted by mysterious strangers, and are forced to flee their home. With the help of Martine (whom they still know only as a voice) Renie, along with !Xabbu, her father, and Dr. Van Bleeck's assistant Jeremiah, find an old, mothballed robot-plane base in the Drakensberg Mountains. They renovate a pair of
V-tanks (virtuality immersion vats) so Renie and !Xabbu can go online for an indefinite period, and prepare for their assault on Otherland.
Back on the army base in America, little Christabel is convinced to help the burned and crippled Mr. Sellars with a complex plan that is only revealed as an escape attempt when he disappears from his house, setting the whole base (including Christabel's security chief father) on alert. Christabel has cut what seems an escape hole in the base's perimeter fence (with the help of a homeless boy from outside), but only she knows that Mr. Sellars is actually hiding in a network of tunnels beneath the base, free now to continue his mysterious "task."
In the abandoned facility, under the Drakensberg Mountains, Renie and her companions enter the tanks, go online, and break into Other-land. They survive a terrifying interaction with the Other which seems to be the network's security system, in which Singh dies of a heart attack, and find that the network is so incredibly realistic that at first they cannot believe it is a virtual environment. The experience is strange in many other ways. Martine has a body for the first time, !Xabbu has been given the form of a baboon, and most importantly, they can find no way to take themselves offline again. Renie and the others discover that they are in an artificial South American country. When they reach the golden city at the heart of it, the city they have been seeking so long, they are captured, and discover that they are the prisoners of Bolivar Atasco, a man involved with the Grail Brotherhood and with the building of the Otherland network from the start.
Back in America, Orlando's friendship with Fredericks has survived the twin revelations that Orlando is dying of a rare premature-aging disease, and that Fredericks is in fact a girl. They are unexpectedly linked to Renie's hacker friend Singh by the Wicked Tribe just as Singh is opening his connection to the Grail network, and drawn through into Otherland. After their own horrifying encounter with the Other, Orlando and Fredericks also become Atasco's prisoners. But when they are brought to the great man, along with Renie's company and others, they find that it is not Atasco who has gathered them, but Mr. Sellars—revealed now as the strange blank sim who helped Renie and !Xabbu escape from Mister J's.